IN THE FIELD
Swiss Export Risk Insurance SERV supports and assists Swiss enterprises with everything from strategic direction through to the last payment for your export transaction. These success stories tell you how.
100 kilometres of railway in Ghana with Swiss participation
The Swedish export credit agency EKN is collaborating with SERV, which is providing a reinsurance agreement to upgrade a railway line in Ghana. This is possible thanks to the significant involvement of several Swiss companies and benefits all parties involved in the project.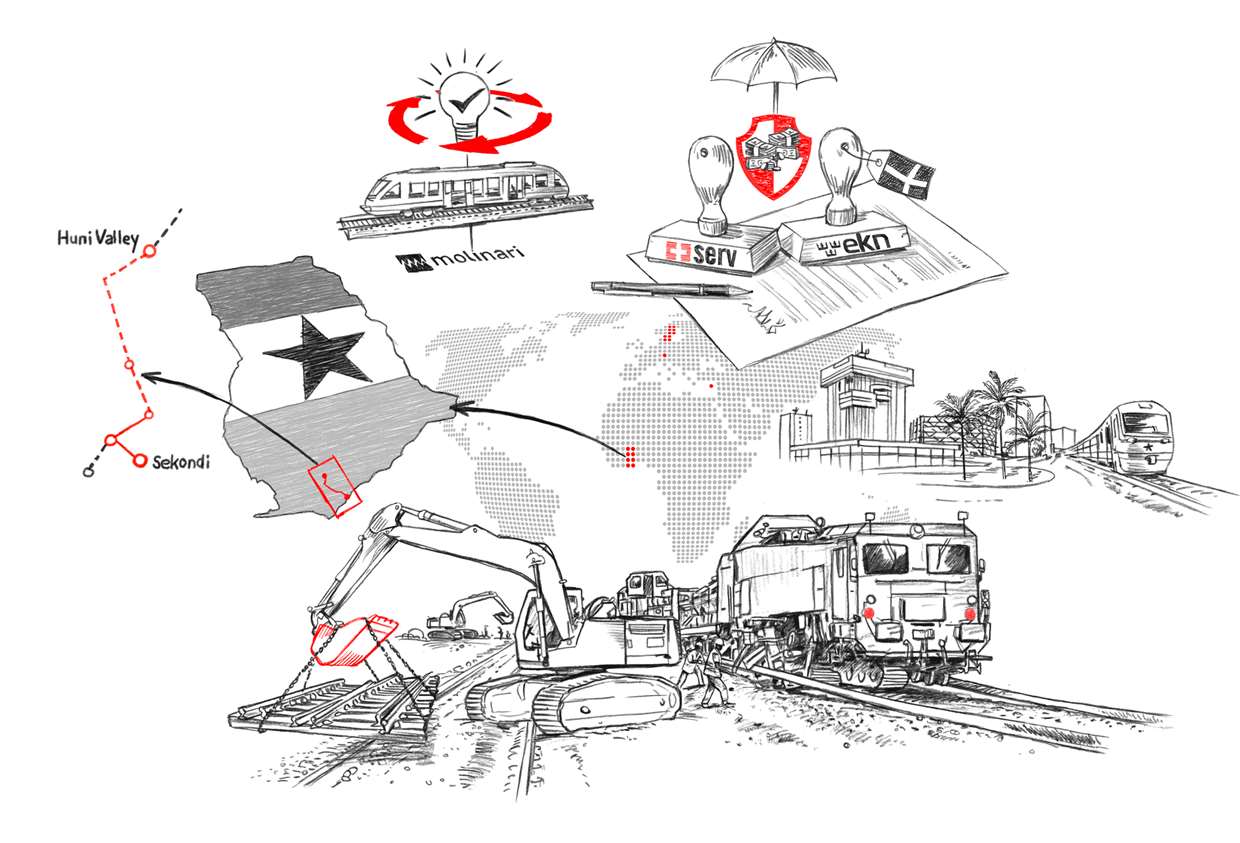 Ghana is one of the fastest growing economies in Africa. In 2021, the country invested a EUR 600 million loan in the upgrading and expansion of a 100-kilometre railway line in the west of the country. This line is key to transporting goods from the inland town of Huni Valley to the port of Takoradi in the south and will further boost the country's economy. The new rail line will initially be used mainly for freight transport, with passenger transport being gradually expanded thereafter. Known as the Ghana Western Railway Line Project, it is part of Ghana's initiative to upgrade the infrastructure of the country's rail network and make the line safer and faster, while simultaneously creating an environmentally friendly alternative to forms of transport that depend on fossil fuels.
A buyer credit worth EUR 523 million over a period of 18 years – including four years of construction work – is being granted for the implementation of this major international project. This is complemented by an additional EUR 75 million commercial loan for the 15 per cent down payment. Suppliers from various countries are participating in the project, including the Swiss company Molinari Rail AG (Molinari) alongside other Swiss subcontractors. Molinari offers customized solutions for the rail industry around the world. In addition, Molinari supports its clients with the design and development of vehicles as well as with project management, construction works, Q&A, commissioning, maintenance and modernization. Thanks to the considerable share of the project accounted for by Swiss suppliers, Swiss Export Risk Insurance SERV was able to provide EUR 272 million in the form of reinsurance cover.
"SERV's reinsurance is a good way for us to participate in projects where the Swedish share is below the national content requirements by our statutes."

Malin Tegnér Larsen

SENIOR UNDERWRITER, EKN
A set-up that benefits everyone
Amandi Investment Ltd. (Amandi), based in Cyprus, is acting as the general engineering procurement and construction (EPC) contractor, and concluded an EPC contract worth EUR 500 million with the Ghanaian buyer in mid-2020. The comparable projects that Molinari has successfully carried out in collaboration with SERV in the past enabled the company to establish a good track record. This was the factor that persuaded the general contractor to bring Molinari on board. In the words of CEO Michele Molinari, "This project allows us to demonstrate that our structure and the bundling of various subcontractors has advantages for the general contractor and is sustainable also for the ECA. For us, Ghana Railway represents a blueprint project for future contracts."
As the largest proportion is coming from Swedish subcontractors, the Swedish export credit agency (ECA) EKN is insuring the project, but EKN's value creation requirements do not permit it to assume the risk alone. EKN has therefore reinsured around half of the total volume with SERV. "This is a good way to participate in projects where the Swedish share is below the national content requirements by our statutes," Malin Tegnér Larsen, senior underwriter at EKN, explains.
Although the coverage is primarily through EKN, Amandi has established a Swiss subsidiary based in Geneva called Arad Engineering SA. This is exactly in line with SERV's Pathfinding Initiative. In the long term, this allows SERV to give SMEs the opportunity to participate in large-scale projects to which they would otherwise have no access or would struggle to access.
Swiss electric vehicles for

Australia Post
KYBURZ Switzerland AG (Kyburz) has received a large order worth tens of millions from Australia Post and needs a loan to finance its production costs. An insurance policy from SERV is helping it to obtain lower interest rates, among other things, benefiting both Kyburz and its Australian customer.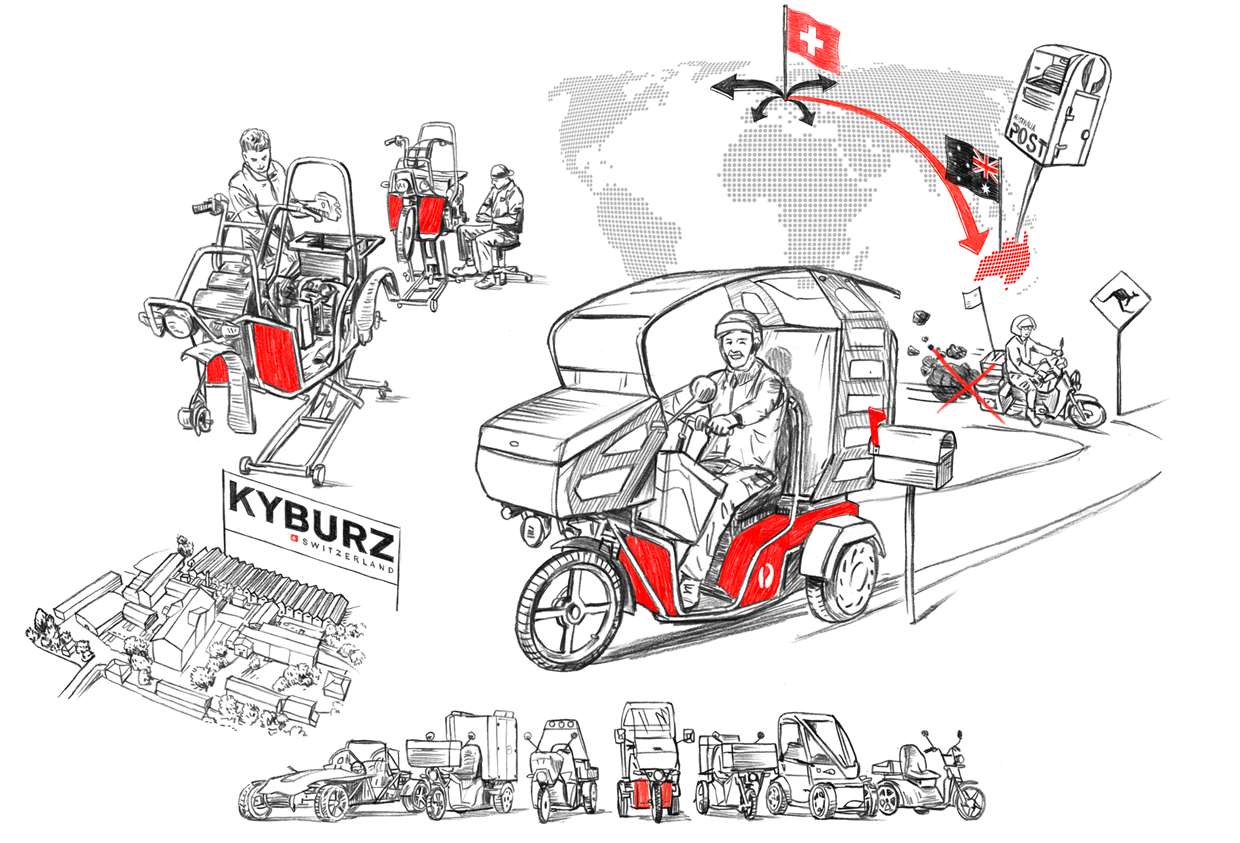 The company's vehicles have been a familiar sight on Swiss streets for years. No one hears Swiss Post's unmistakable three-wheeled electric delivery vehicles, but everyone knows them. They are manufactured by KYBURZ Switzerland AG (Kyburz), which is based in Freienstein in the Canton of Zurich. Kyburz develops and manufactures high-quality electric vehicles for delivery companies and private individuals. According to Martin Kyburz, founder and CEO of the company, "It all started in the 1980s," when he took part in the Tour de Sol solar-powered vehicle race and discovered his passion for what were then alternative forms of propulsion. He later grew enthusiastic about developing a vehicle that was energy-efficient and fun to use, which led to the founding of Kyburz in 1991.
At Kyburz, the focus is on people and the drive to develop efficient products takes centre stage. The SME has already received several innovation awards for its developments. The company tailors its products to each individual customer's needs, which has enabled Kyburz to attract not only Swiss Post but also a multitude of other customers all around the world. Over 25 000 Kyburz vehicles are in use worldwide. Deliveries abroad account for a large share of the company's business.
A large order worth tens of millions
One of Kyburz's customers is Australia Post, whose petrol-powered vehicles had seen better days. It wanted to switch to electric vehicles and chose Kyburz's three-wheeled DXP. Following on from two large orders of 1 000 vehicles each, the company supplied another 1 000 in 2021. The Australian customer made a down payment of 30 per cent in each case against a guarantee for each of these three large deliveries, which have a combined value of approximately EUR 33 million. Kyburz receives the remaining amount only when the goods have been delivered to the customer. For an SME with more than 150 employees, that is a long time to wait for such a large sum.
The benefits of insurance
Kyburz has applied for a working capital loan from its bank to pre-finance production and ensure the necessary liquidity for other orders. SERV is insuring the loan and covering the advance payment guarantees by means of a counter guarantee. This will allow Kyburz to take advantage of lower bank interest rates and to offer the customer in Australia generous financing conditions. "The customer has high demands and attractive financing plays a significant role in being competitive," founder and CEO Martin Kyburz explains. SERV's support renders many financing-related questions unnecessary, allowing Kyburz to concentrate on its business and its collaboration with Australia Post.
"The customer has high demands and attractive financing plays a significant role in being competitive."

martin kyburz

founder and CEO, kyburz switzerland AG
Martin Kyburz describes the collaboration as being based on a very high level of trust, while at the same time being demanding and intensive. The challenges are manifold, ranging from the lack of in-person contact on site due to travel restrictions, to technical problems, compliance with local legislation and cultural differences. "It puts enormous pressure on us, but also helps us to move forward," Martin Kyburz comments. After all, we need to be ready for the next order, which will again entail fresh demands and challenges.
How an SME in French-speaking Switzerland manages to hold its own on the market
THE Machines Yvonand SA (THE Machines), which is based in French-speaking Switzerland, is doing good business. The SME is, however, confronted by the challenges of supply bottlenecks and high commodity prices and needs attractive payment terms if it is to survive in the market. SERV offers solutions to these challenges.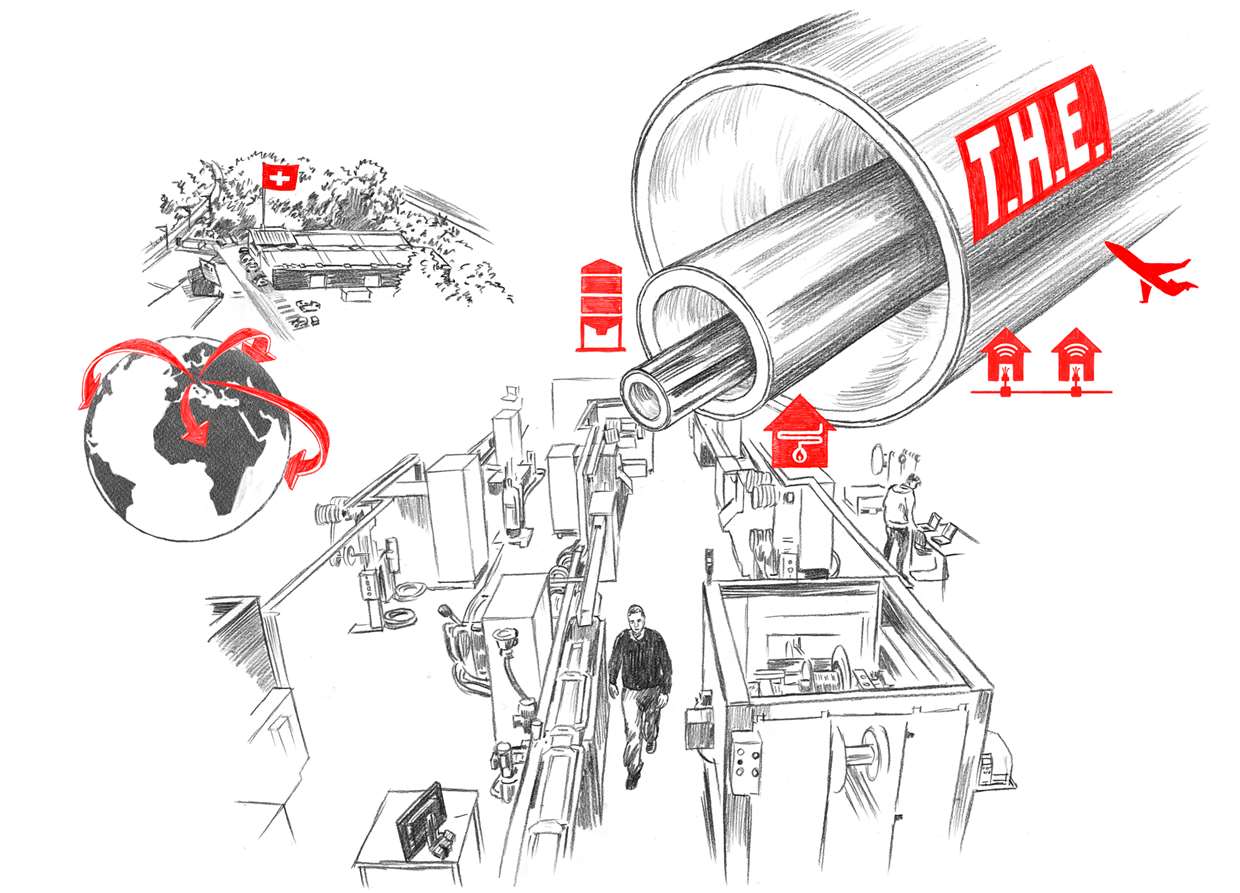 "It's one of our best years ever," says Jehona Gaçaferi, Export & Financing specialist at SME THE Machines Yvonand SA (THE Machines). Turnover has grown strongly over the last two years, yet, for some time now, the company has experienced new challenges, largely due to the pandemic: the SME is experiencing delays in the delivery of electronic components, and rising commodity prices are putting margins under pressure. As a Swiss company, it is also in the upper price segment. THE Machines makes up for this with its high-quality products and attractive payment terms, and it is SERV's support that makes these payment terms possible.
Attractive payment terms thanks to export risk insurance
But what exactly is THE Machines? Everything revolves around pipes and cables at the SME. As mundane as that sounds, the solutions offered by the company, which is located near the industrial region of Yverdon-les-Bains in the French-speaking Canton of Vaud, are ingenious. It is dedicated to the development of complete, sometimes customised, production lines for the manufacture of irrigation pipes with drippers and multilayer pipes for a range of applications. THE Machines is also a pioneer in the welding of tubes in the micromillimetre range and alloys that are difficult to machine.
"We are extremely grateful for SERV's support because we would probably have to turn down some orders if we didn't have it."

Jehona Gaçaferi

Export & Financing Specialist, THE Machines Yvonand SA
It has customers all over the world. They generally make only minimal down-payments and sometimes demand bank guarantees amounting to millions for the purchase of a production line. The SME, which has 60 employees, cannot handle such large orders on its own as its credit limit with the bank simply does not allow it. THE Machines has therefore relied on SERV's insurance policies and guarantees on a regular basis for many years. "We are extremely grateful for SERV's support because we would probably have to turn down some orders if we didn't have it," Jehona Gaçaferi says. SERV's support also allows the company to enter risky markets and offer its buyers multi-year payment periods at low interest rates. It means that bank guarantees are not a problem and THE Machines' liquidity remains intact. This collaboration has been in place since the days of the Export Risk Guarantee (ERG), SERV's predecessor. Jehona Gaçaferi comments: "I really appreciate the relationship of trust that has developed over the years. SERV's advisers always respond quickly and flexibly, which is indispensable for processing our transactions."
A new strategy
Until only a few years ago, the majority of the company's deliveries were to the agricultural sector, but there has been an increase in demand for applications for sanitary installations, heating, aviation and telecommunications in the intervening period. A high level of investment is required for the machinery for these new applications and the orders are increasingly large in volume. While this is, of course, a good thing, it necessitates adaptation to the conditions of these new markets. THE Machines has therefore introduced a new strategy. Where previously the company put stability and security first, it will in future also focus on diversification and growth. This will necessarily entail a greater need for liquidity. Jehona Gaçaferi says: "We are therefore counting on SERV's support in this growth phase."